Since my post on Comfort in the Hospital, I've collected some new ideas and want to share them along with some new insight as a caregiver, as well as, a patient and former hospital administrator.  With Easter and Mothers/Fathers Day celebrations coming, a little something can go a long way to making an assisted living, skilled nursing, rehabilitation or hospital stay a bit more comfortable.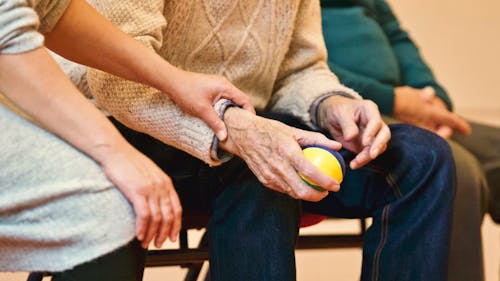 My list comes from samples I've received and tested over the last few months.  Each makes one feel more comfortable in their own unique way.  Links to where you can learn more and find these items are included as hyperlinks.
Arm Warmers - I get colder now and do layer, but sometimes just need periodic warmth on my arms.  In addition, I find that arm warmers provide a bit of compression to help my arms feel a little less fatigued as the day goes on.  I've tested a couple, but the ones I like best are  from Derivative; mostly because the don't slip.  They are a soft cotton blend; and as a more conservative dresser, I like the solid colors.  I can put them on in the morning and easily slip them off as the day warms up.  Or, keep them on if I need my arms need some extra support throughout the day.  Besides, their models make me feel like I'm one of the cool people!
Compression Socks - Like the arm warmers, compression socks are a must have for those with circulation issues.  They are excellent for long trips, but also for those who may be sitting and not moving around for long periods of time in a facility or at home. The compression socks from Comrad have a comfortably tight feel, without being too challenging to pull on or off - especially for those who already struggle with hand strength and coordination.
Airborne Particle Blocker - Healthcare facilities can have questionable air.  NasalGuard provides an invisible barrier against contaminated air, virus-size particles, pollen, dust mites, smoke and more.  Those with significant allergies or suffering with air pollution will really appreciate the electrostatic technology that reduces the inhalation of airborne particles.  All it takes is a drop rubbed under your nose every 4 to 6 hours.
Denture & Partial Spray - The EverSmile FreshDent is a portable cleaner and that kills bacteria for denture and partial wearers - even while they are in the mouth.  As a long time retainer wearer, this is certainly a welcomed product for those on the move, as well.
New & Improved Toothbrush -  Dr Plotka's toothbrush has antimicrobial bristles infused with silver to naturally eliminate 99.9% of bacteria that grows in between uses.  This is great for the average person. But, for those with fatigue, arm/hand weakness and/or coordination challenges, it also means more effective brushing - and who doesn't love a new toothbrush!
Blue Light Blocking Eyewear - Patients and residents of healthcare facilities don't have control over all lighting.  And, sleep is really important and valued.  SafetyBlue offers two styles of glasses for wearing before bed to signal your body to produce melatonin naturally.  Some will need to work up to wearing them for longer periods, since it is an odd feeling at first.  But, after a few nights you will be wearing them for a couple of hours  before bed and sleeping better.  On style even allows you to wear them over your regular glasses.
If you have tried any other products and want to share what you have found, leave a comment for all to benefit.