Way back in 2005 when I was still getting started as a blogger and was active in the world of EHR adoption, I wondered about their impact on malpractice rates.  I asked a malpractice carrier friend of mine what he thought and the answer was it would be years before anyone could really tell.
So here we are in 2014 and the information is starting to flow; first with an October 2013 post  and now with an article in PSQH about an analysis of malpractice claims that confirms the risk of EHRs.  The top issues are identified in the table below.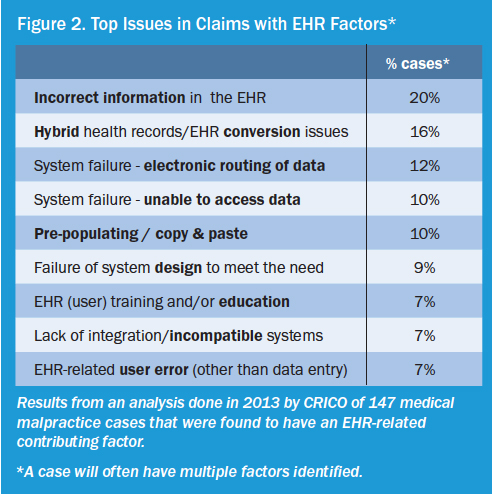 This list of risks points to the ongoing need for staff awareness and education, user centric design and aggressive identification and correction of technology issues.  It also highlights a fear I've had for some time around what I've seen to be weaknesses in ambulatory care settings.  Ambulatory settings (and even some small hospitals) may not have the resources -- technical expertise or safeguards needed -- to minimize these risks.  Unfortunately, this is resulting in them having 56% of the malpractices claims in this study.