MHADegree.org has taken on the arduous task of gathering social media stats for all of the hospitals listed as "Nationally Ranked" for at least one adult specialty by U.S. News & World Report and used the number of followers and the amount of activity on each platform to calculate a score.  The highest possible score was 100, with 21 points for Facebook, 17 for Twitter, 18 for YouTube, 18 for LinkedIn, 8 for Pinterest, 12 for Google Plus, and 6 for Flickr.
Even those organizations not ranked by US News can still use the data for benchmarking and comparing their organization to those they follow.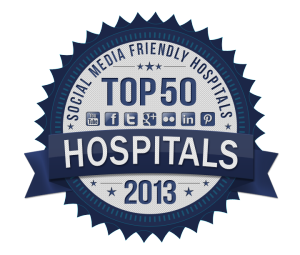 It is also great to see a couple of familar names near the top of the list! Do notice the number of cancer specialty systems, because it is saying something.  Also, keep in mind to make the list you have to have lead in at least one adult speciality.  Otherwise, I suspect several children's hospitals would have also made the list.